Bill is presented to rename the Houston Post Office in honor of Spc. Vanessa Guillen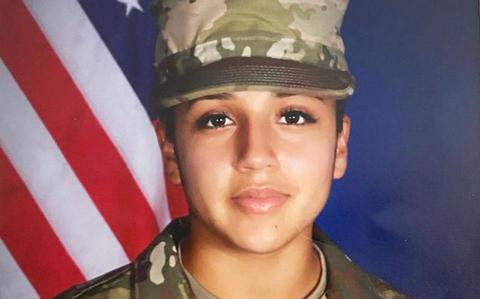 Soldier from Fort Hood SPC. Vanessa Guillen. (The American army)
AUSTIN, Texas – Legislation to rename a Houston post office after the death of a soldier from Fort Hood, Spc. Vanessa Guillen was introduced to the House on Wednesday, the same day that would have been the soldier's 21st birthday.
Representative Sylvia Garcia, D-Texas, filed legislation to rename the post office at 5302 Galveston Rd. In South Houston in honor of the city's native Guillen.
"This post office is located a few blocks from Vanessa's high school, and I hope her memory will inspire future generations of students for years to come," Garcia said in a statement. It represents the Houston neighborhood where Guillen came from and where the soldier's family lives.
As early as the age of 12, Guillen told her father that she dreamed of serving in the military, according to a press release from Garcia's office. After graduating from César Chávez E. High School in the top 15% of her class, she enlisted in the military and trained as a small arms / artillery repairer.
Fort Hood was the soldier's first and only duty station. She was killed on April 22 in a base weapons room by another soldier. It took Army investigators more than two months to locate his body buried near the Leon River about 20 miles from the base.
Guillen's research has gained international media attention and has led to a number of ongoing investigations into Fort Hood and the military. Subcommittees of the House Committees on Oversight and Reform and the Armed Services are conducting an ongoing joint investigation into grassroots policies and practices, with a focus on Guillen and six other soldiers who died this year then that they were stationed at Fort Hood.
"Vanessa's tragic death has been a wake-up call to the country as to what needs to be done to protect our young soldiers from potential harassment and sexual assault. Renaming this post office won't bring Vanessa back, but it will serve as a constant reminder of her heritage to her family and the Houston area, "Garcia said.
Garcia was joined in her bill to rename the post office by a bipartisan group of members of the Texas Congressional delegation, including Democratic Representatives Joaquin Castro, Vicente Gonzalez, Lloyd Doggett, Filemon Vela, Henry Cuellar, Marc Veasey, Colin Allred, Al Green and Véronique Escobar. Republicans include Reps John Carter, Chip Roy, Roger Williams, Van Taylor, Will Hurd, Brian Babin and Dan Crenshaw.
[email protected] Twitter: @Rose_Lori